Shopping Cart
Your Cart is Empty
There was an error with PayPal
Click here to try again
Thank you for your business!
You should be receiving an order confirmation from Paypal shortly.
Exit Shopping Cart
| | |
| --- | --- |
| Posted on April 2, 2016 at 3:00 PM | |
I don't like fondant.  There are numerous bakers who swear by it, and it is undoubtedly a convenient medium for decorators.  I just don't think the taste can compare to a good buttercream frosting.  Buttercream is more unstable, and presents more challenges for decorating, but it's my go to, and I'm up to the challenge.
I did give fondant a try.  Once. I was working hard to complete a cake for entry into our annual cake contest at work.  As the initiator and organizer of the contest, I felt pressured to have an entry.  But the beautiful 3 layer cake I had envisioned wasn't going to happen.  It should have had a marsala colored frosting onto which I would (hopefully skillfully) pipe delicate white designs.  The contrast would have been breath-taking.  I would walk away in the top three, I was sure.  The contest was on Monday, and on Saturday evening, as I struggled to mix the required color, my buttercream was still shades away, and with each additional drop of color the buttercream became more bitter. This was back in the days when i would pull pictures from Pinterest and assume, with my limited skill set, I could replicate it.  Now I spend hours watching tutorial videos shared by wonderful bakers and baking artisans, but back then, I was arrogant and stupid.  Not only was the color elusive, I didn't know I needed to stabilize each layer of cake, so the top layers were slowly sinking into the lower layers. 
Earlier in the week, when I had shared my planned design with a colleague, she had wisely, and perhaps anticipating the challenges I would face, suggested I make a carousel cake.  So as my layers toppled into each other, I scrapped my marsala cake plans, pulled the cakes apart, and raced up to Michael's to find props for a carousel.  And some backup fondant.  
I'm not proud of the cake I submitted, but as a first fondant effort, it humbled me, as well as exposed me to the limitless opportunities fondant presents, if used skillfully.  I didn't do it justice. But someone has to to populate those seriously funny "Pinterest fail" pages!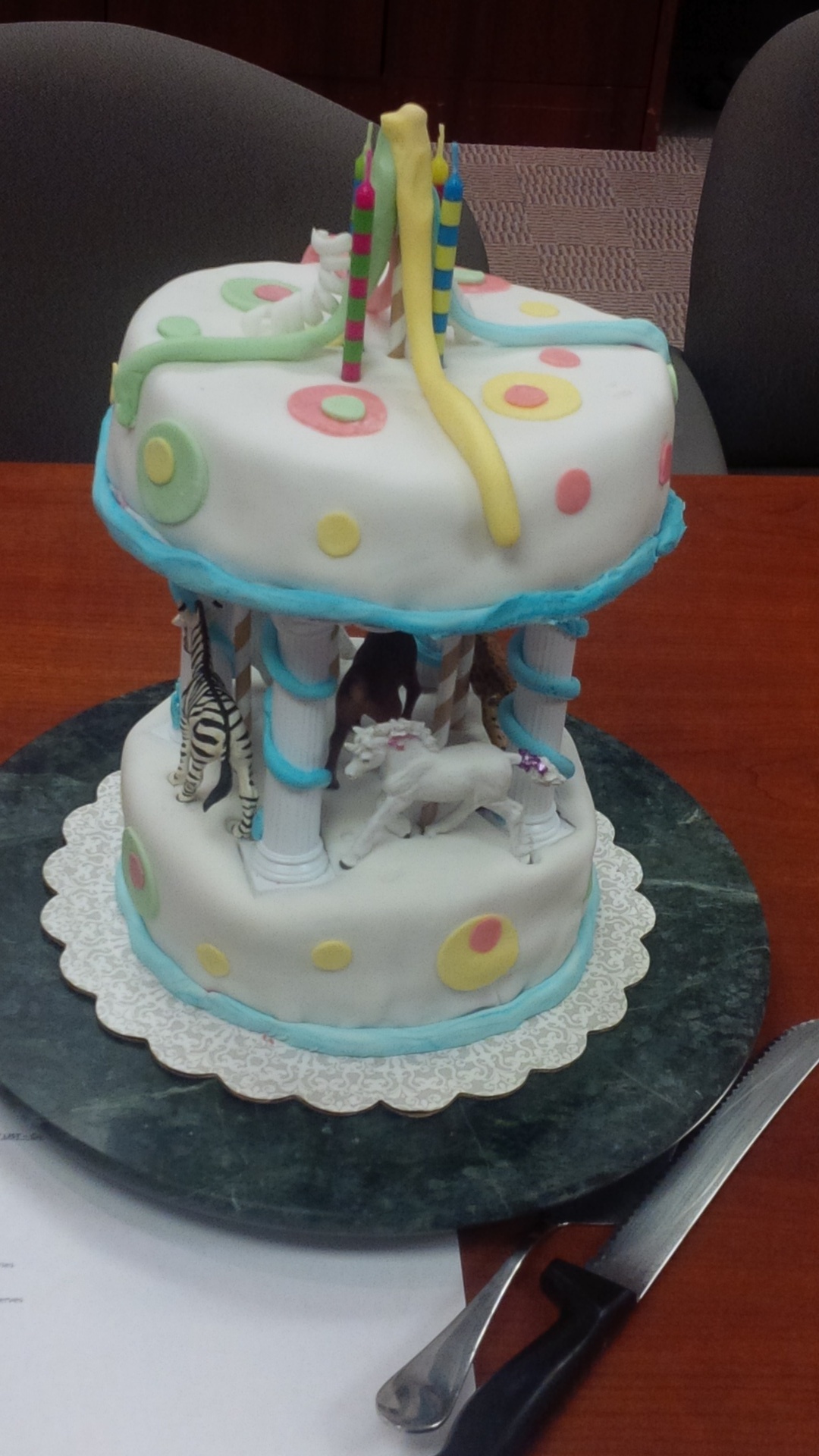 Categories: cake, fondant, buttercream
/